Floor Fire Jam 2023 is set for December 17, 2023 in Uganda!
Become a Sponsor & Gain International Exposure
SupaDopeFresh is a proud sponsor of the 2023 Floor Fire Jam Breakin Battles held on the Kazo Football Pitch in Uganda, Africa. This is a premiere Break Dancing Competition! We could use your help to increase the reach of this empowering dance competition. The event will be held on December 17, 2023 from 11am  - 8pm. We have partnered with our TBB/TBG Global brothers and sisters to provide support to the Kawempe Youth Talent Forum. 
We are asking for your support not only for the dance event, but more importantly to give back to the local community. Our combined efforts will provide help to less privileged kids, teens and adults giving them direct and free access to books, food, clothing, personal hygiene items, medical testing for HIV, and access to basic healthcare resources. Use the form below to reach out about sponsorship opportunities.
CLICK HERE FOR SPONSOR AND DONATION OPTIONS
Individuals desiring to help financially can contribute via GoFundMe by clicking here.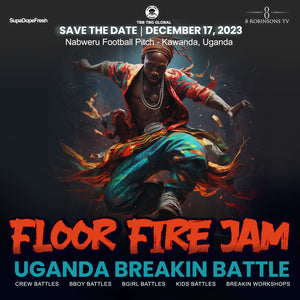 supadopefresh Originals Collection